The Action Plan against declining vineyards is structured around four interdependent and complementary priorities for action or ambitions.
The 4 goals of the national plan
In order to act immediately, on all fronts, first requires enabling the wine growers to reduce dieback, taking into account their economic and regulatory constraints (Ambition n°1). It also requires working with viticultural nurseries on plant material and our ability to renew the vineyards, by fully involving them in the activity (Ambition n°2). It requires working towards the coordination of vineyard observation networks to pre-empt crises (Ambition n°3). At the same time, it means the setting up of a national and European scientific programme, renewed and co-constructed with research teams (Ambition n°4). These four complementary ambitions interact with each other as part of an integrated and comprehensive approach.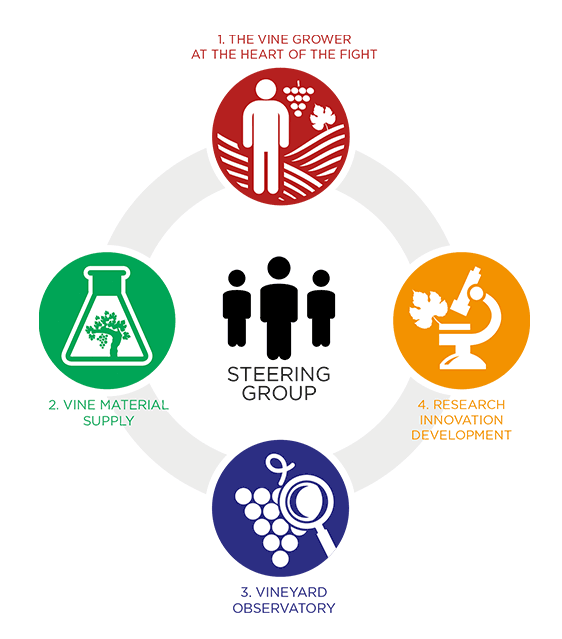 Ambition n°1: Towards a network of actors to promote training and the sharing of good practice
To mobilise all players at a collective and individual level, we must raise awareness of the challenges and risks associated with dieback. Raising awareness, and encouraging ownership of the Strategy, requires information to be relayed by all the available means: training, industry conferences, social media, specialised press, etc. This website, a veritable platform for collaboration, is central to this. It also enables the sharing of knowledge and it helps develop the technicity of practitioners.
Ambition n°2: The production of young plants in partnership with viticultural nurseries
Dieback exacerbates the issues related to the procurement of plant material. Quantitatively, there is a high demand for young plants due to the need to pull up and replant vines. Qualitatively, in future, we will need to have varietals available, which are adapted to the challenges created by diseases and climate change. Three areas must be prioritised to ease the burdens on the sector. We need to encourage an increase in the surface area of stock nurseries working under a secure and innovative production model. This should be achieved by creating a "win-win" working relationship with viticultural nurseries. Finally, an evolution to the regulatory framework needs to occur to enable greater experimentation.
Ambition n°3: The creation of coordinated networks for vineyard observation, to pre-empt crises and identify corrective action to be taken
The creation of a network of the different monitoring devices for regional viticultural activity, and its collective use, will improve the sector's pre-emptive capabilities. Whether these relate to the direct causes of dieback, the observation of a sick vine, or the close monitoring of criteria necessary for a scientific study (temperature, water stress, etc.), the value of this data will increase when it is shared through a "network of networks".
Ambition n°4: Research that meets the industry's needs, in renewed partnership with the scientific community.
By adopting a Research-Innovation-Development strategy for the 5 to 10 years to come, the industry demonstrates its commitment to take control of its future and to be a true partner to the scientific community. This strategy is structured into five research topics, in a renewed approach with the scientific community towards interdisciplinary and comprehensive research on dieback: the relationship between yield and longevity, in conjunction with physiological processes; the root ecosystem and soil components; the prevention and control of biological risks; controlling plant material; and socio-economic levers.